Everything we deliver is designed to help you gain the most from your Managers and their teams. Our training solutions incorporate the very latest in business thinking, and our delivery will follow these underlining principles: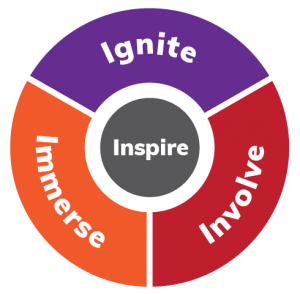 Ignite
We will ignite excitement about the prospect of learning, grabbing attention and focus.
Involve
We will involve real business issues, drafting scenarios to base activities and discussions.
We will involve through personal challenges with high expectations of your learners.
Immerse
We will provide long term support, embedding newly found behaviours.
We will work with you in collaboration, building a strong in-house support system.
Inspire
We will provide an inspiring experience that is positively uplifting and empowering, developing a strong sense of self believe and a desire to achieve.
The great thing about The Leadership Growth Company is our personal touch, customer service at its very best. You will receive undivided attention and you will almost forget that we are an external consultancy. We will be supporting, advising and guiding long after a project has been delivered.
Kate our founder, will be your number one contact, being heavily involved in the design and delivery of your training requirements.  If Kate is not actually delivering your training courses, she will be managing your project, and working closely together with yourself and our expert associates.

We Listen
Before anything else we take time to really understand your business, your people, your culture, and your goals.
We do this at your office, there is no obligation, we do not charge for listening to you!
We Design
We propose a tailored flexible training programme moulded to your needs.
We present this to you and again there is no obligation, we do not charge for discussing our ideas with you.

We Deliver
Our designs will use real life business issues, incorporating your procedures and policies.
We will ignite and inspire through our unique brand of practical hands on training and coaching.

We Support
We work in partnership with our clients and provide ongoing evaluations.
We will advise as to how you can continue to support and develop through your own internal channels.